Now offered at Jane Street Dental...


DIOnavi Full Arch: A Fully Digital, and Highly Accurate Alternative to Traditional Dentures

Looking for a more comfortable, natural-looking alternative to dentures?

Full Arch restoration makes for an excellent edentulous solution - completed in only one visit to the dentist, offered at our North York dental clinic.
About the DIOnavi Full Arch Solution
Full Arch consists of a series of 4-6 fixed implant to support the function of an entire arch. As the procedure is all digital, the Full Arch solution is highly accurate and provides an incredible, natural-looking aesthetic result.
Another bonus: the minimally-invasive nature of the Full Arch procedure means less pain and discomfort, and a speedier recovery time for the patient.
Let's look further into the benefits of DIOnavi Full Arch vs. traditional dentures:
Convenience:
With a minimal number of implants required for with Full Arch, there is often only one visit required to complete your full restoration - which provides an unparalleled level of convenience for patients wanting their smile restored sooner than later.

Alternatively, dentures can be rather inconvenient as they can contribute to a foreign body sensation in the mouth due to not being fixed and permanent - not to mention, they must be removed and cleaned every day before sleep.


Stability:
Dental implants as part of a Full Arch procedure provide a permanent restoration as strong and stable as natural teeth, making them ideal for everyday functions like chewing, speaking and smiling - without the stress of an impermanent solution.

Traditional dentures, on the other hand, are semi-permanent - with the device becoming more loose and less stable as time goes by; often moving or falling from the mouth while chewing or speaking.


Comfort:
The Full Arch offers a high level of comfort with its minimal number of implants. Most patients report that their restoration feels just like their own teeth, with a perfect fit.

Dentures, however, can be quite uncomfortable - especially with their tendency to move in the mouth and become looser over time.
Discover the Full Arch Difference Today
Ready to restore your smile and improve your life with DIOnavi Full Arch soloution?
Contact our team today to schedule your initial consultation!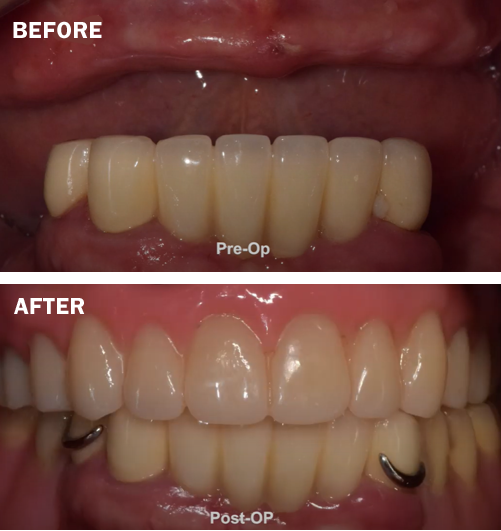 DIOnavi Full Arch now available as an alternative to the traditional dentures.